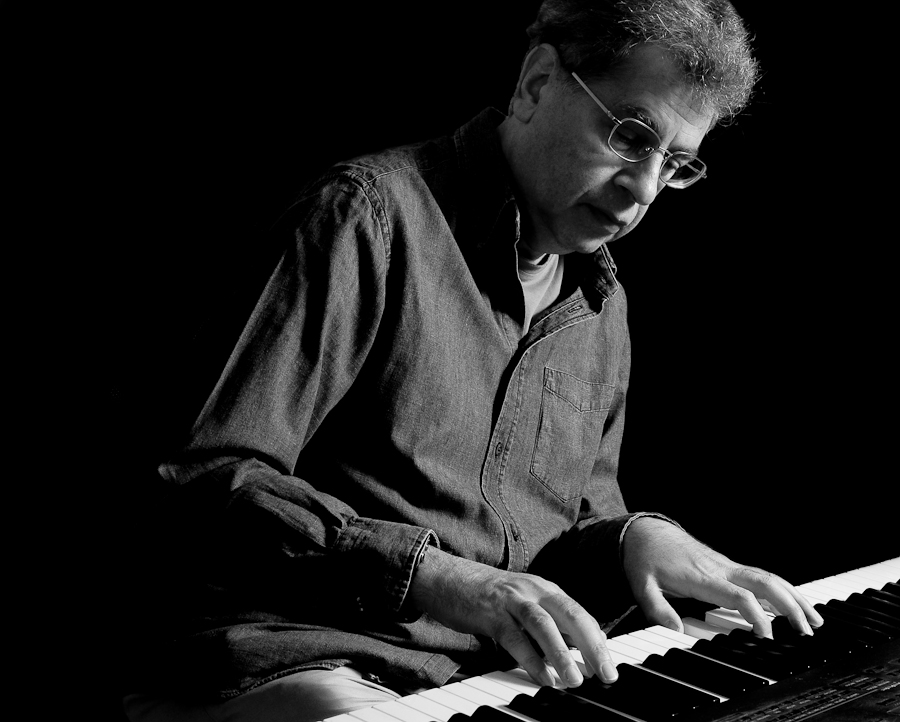 Learn Jazz Piano online now! Unlock your creativity by improvising jazz standards and the blues. My integrated and logical online jazz piano video course will guide you through all you need to know about playing jazz piano. Still the cheapest and the best!
Reviews from happy customers who subscribe to learn jazz piano online.
Astounding!
Paul is an excellent teacher, everything is explained clearly in a relaxed and unhurried manner, and the step-by-step progression of the course is very well designed so you never feel overwhelmed and don't move on until you are ready. If you want to learn jazz piano, I couldn't recommend this course highly enough.
J. Othen. London
Rating: 5 out of 5
Abrahams is inspirational
I've been trying to get into Jazz piano for quite a while but could never before find a clear structured step-by-step route.This course is just that. It's challenging, but my understanding of theory and scales has improved dramatically and I'm excited for it all to come together.
T Dale-Thomas. Wales
Rating: 5 out of 5
So clear
This is a lovely course, I highly recommend it. Paul has put together a package of incremental learning which is easy to follow and you can do at your own pace. The play along audio tracks are a fun way to experiment with the scales and exercises and make you feel like you're playing with a band. The course is very affordable and well worth the purchase.
Susie M  United Kingdom 
Rating: 5 out of 5
Here's just some of what you'll learn
Not ready to commit?
Try my free lessons
I offer a short course of four free lessons to allow you to try out my teaching style before you dive into the full course.
Free Lessons
Start to learn jazz piano online now!
You're here to learn to start learning jazz piano online and with my jazz piano lessons I'm here to take you on a journey right from the basics to soloing through any jazz standard and playing the blues.
I have been teaching piano and playing keyboards professionally since 1967, so let me guide you every step of the way.
My teaching system
My system is logical and very easy to follow. With videos, backing tracks, sheet music, four jazz piano eBooks and quizzes you will learn how to play jazz piano online in a method that I use with my own jazz piano students here in London.
In lessons 1 to 5 you will learn how to build chords from scales, and how these chords can then be grouped into recognisable chord progressions.
And I promise not to overwhelm you with jazz theory. That's not the way to learn to play jazz. In fact, I will have you soloing to backing tracks right from lesson 1! This is how I work with my private students, and you will be no different.

The II – V – I sequence
Starting to recognise II – V – I chord sequences is the key to mastering jazz piano. You will soon be spotting this group of three chords in hundreds of jazz standards. Here is this II – V – I sequence in C major but practice in different keys.

The I – VI – II – V turnaround
This four-chord sequence appears everywhere in jazz standards. It appears in various guises and here is a typical turnaround in F major.

Extensions and alterations
Extensions and alterations are those notes that add the spice to your jazz piano solos. There are three extensions and four alterations (sometimes known as altered notes). Extensions are the three notes found in the scale but not the chord.

Alterations are the four notes that come about by sharpening or flattening the extensions.

But enough of jazz theory. Let's play some blues!
Learn to play blues piano in Learn Jazz Piano Online
When we think of the blues sequence the basic form usually has 12 bars, is in 4/4 time and has just three chords. But of course that's not the whole story. This chord progression can have 8 bars, could be in 12/8 and the chord sequence can be far more complex.
Learn about the blues
In my online course I guide you you from the basics to what is known as the bebop chord changes. But for now here are just three examples. I have written these in the key of F major (blues can also be in a minor key!).
Notice that in this first example all three chords are dominant 7s.

There are many options and approaches to playing a a blues solo but the simplest is just to use the blues scale. This scale consists of just six notes: 1, b3, 4, b5, 5 and 7. So in the key of F these notes are F, Ab, Bb, B, C and Eb. The beauty of using this scale for your solos is that it works over all three chords. But don't overuse it!

The next example is still a 12 bar sequence in F major but introduces II – Vs and turnarounds.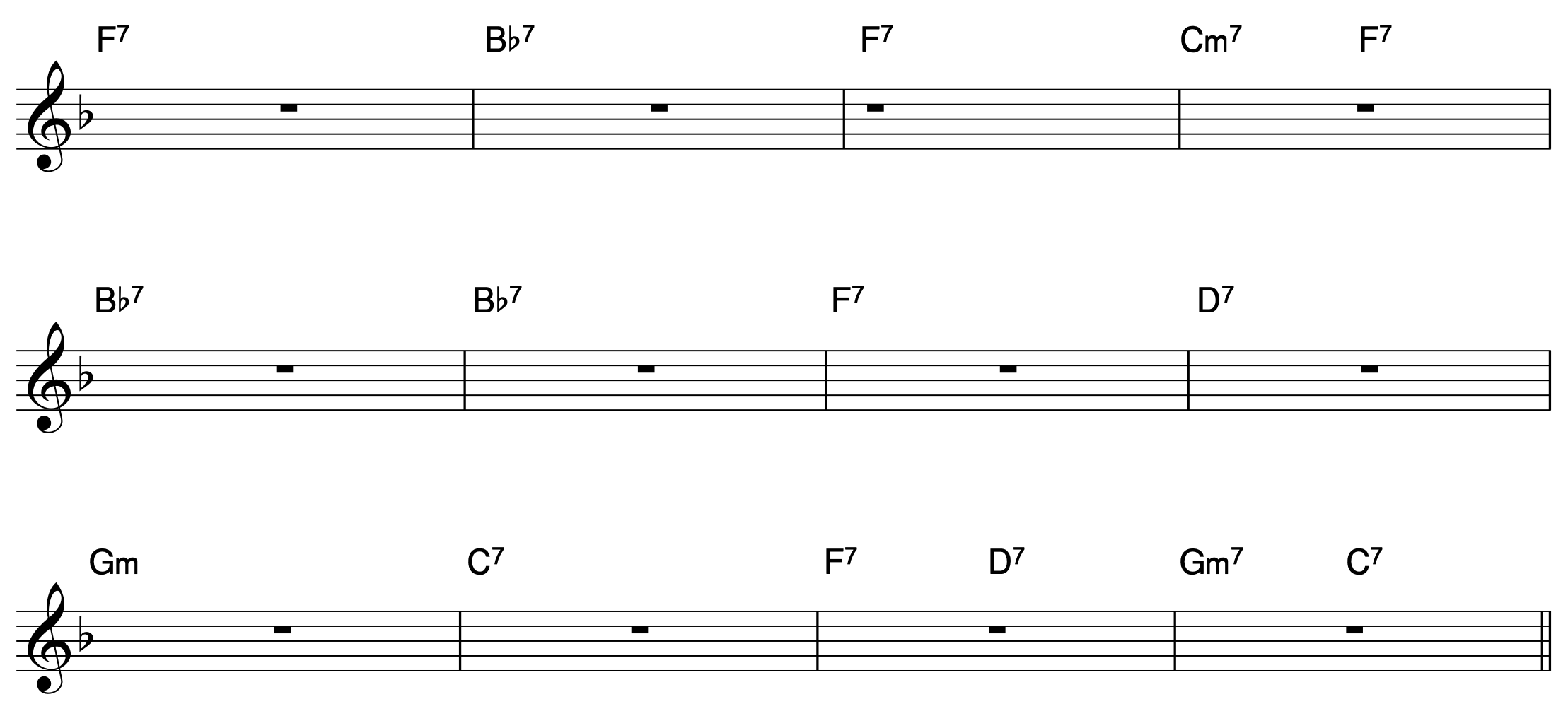 Notice that in Bar 5 we now have Cm7-F7 which is a II-V sequence. Then at bar 6 we now have the start of a I-VI-II-V turnaround: F7-D7-Gm7-C7 and this is echoed in bars 11 and 12. All will be explained in full when you reach video lessons 13 and 14.
The bebop blues sequence
My next example is what is known as the bebop blues sequence. We are still in 4/4, in the key of F major and the same total of 12 bars. But now things are getting very sophisticated with a string of II-V's. Another big difference is that chord 1 is no longer a dominant 7 but a major 7!

Chord voicings
By chord voicings I am talking about the placement and arrangement of each note within each chord. As a very general rule leave a wider gap between notes lower down the piano to avoid a muddy sound. The higher you go the closer notes can be grouped together. The example below shows 4-note chord voicings for a bebop blues.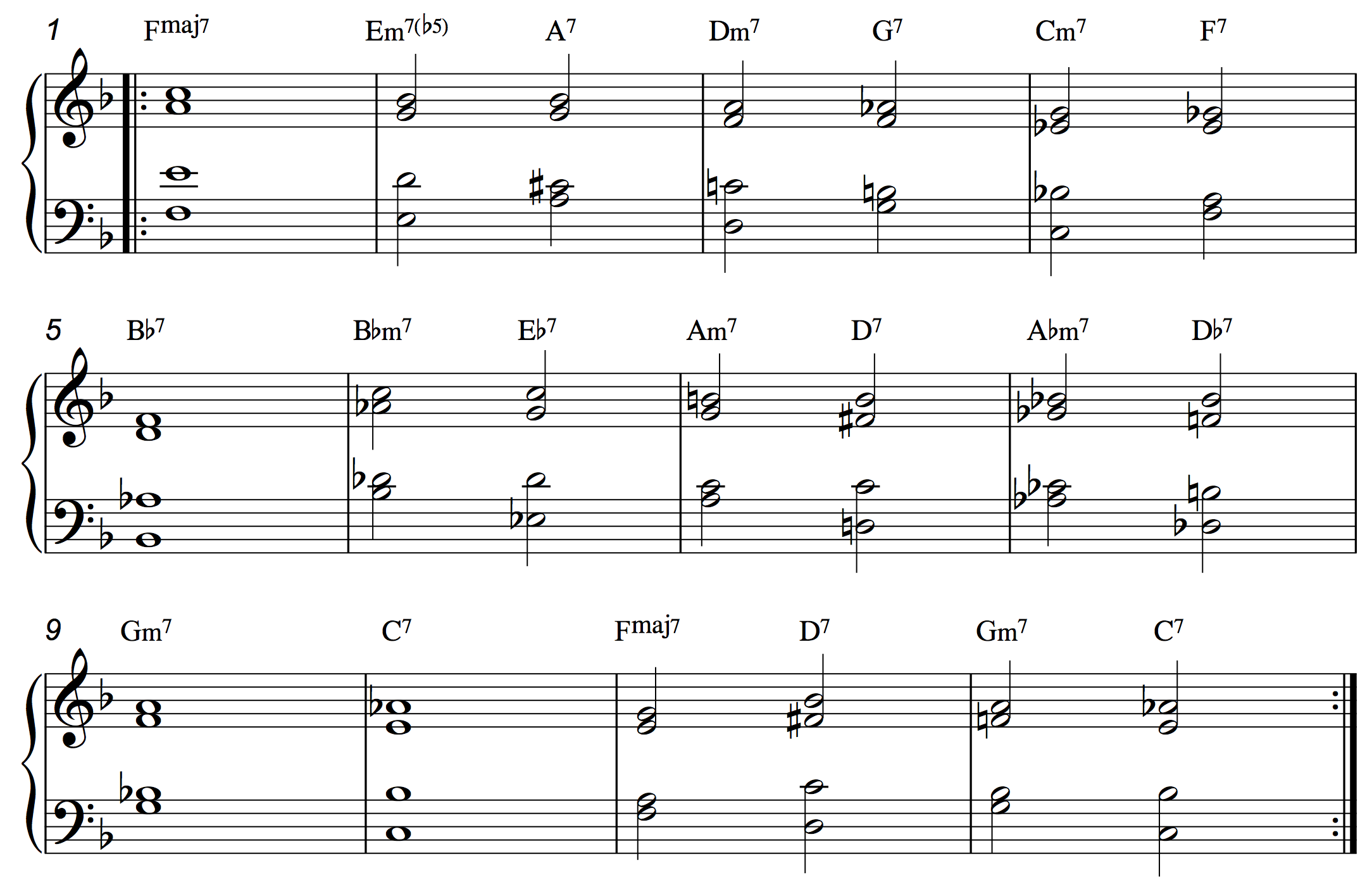 Find out more about learn jazz piano online at my jazz piano course.